Wy proactive ESG needs strategy
With so many companies gaining a marketing boost from "greenwashing" without practicing what they preach, consumers and investors have become increasingly skeptical of lofty Environmental, Social, and Governance (ESG) commitments that turn out to have little to do with what's happening on the ground. We've seen some high-profile cases of this in recent years. For example, the 2015 "Dieselgate" scandal, where Volkswagen admitted that 11 million of its vehicles were equipped with software used to cheat on emissions tests, is an example of an environment failure reinforced by poor governance. Facebook's misuse of data also springs to mind as a governance-related scandal with significant social implications.
There's a clear argument for running business in a way that's environmentally sustainable and treats people with respect, not only in terms of the ethical ramifications of doing otherwise, but both the commercial and legal implications. Yet ESG doesn't just happen in a vacuum; it is far too easy to remain ignorant of harm done when businesses do not carefully monitor, measure and evaluate their impacts. For example, here at Informed 365 we have written widely on the high level of modern slavery risk exposure experienced by Australian businesses given our extensive trade ties with the APAC region (where most modern slavery occurs); forced labour being illegal in every country in the world besides North Korea, yet there are more slaves living now than any other time in history, and the odds are that some of the products in the average Australian shopping basket will be produced by slaves.
The ESG investment market has grown exponentially in recent years, and most shoppers are willing to change their shopping habits to reduce environmental impact (and are willing to pay a significant premium for environmentally responsible, sustainable brands). This makes it sorely tempting for companies to cash in on the goodwill of socially-minded consumers and investors, giving rise to the greenwashing phenomenon; and sadly, many businesses will focus more on the brand value than delivering true ESG (despite the proven value-creation benefits of ESG).
On the other hand, companies that do wish to offer truly sustainable and ethical choices may struggle to do so – particularly at the point of getting started. How do you know whether your supply chain is ethical? How do you measure your environmental impact, and find opportunities to improve upon it? How can you use the knowledge, skills and abilities of your people for social benefit? When we're used to measuring our successes by a dollar value, this can be quite a mindset shift, especially given how different ESG factors may look in your business compared to in another industry (or even another business within your industry).
For ESG to be effective, rather than ad-hoc, you need a well-defined and holistic strategy. ESG must be intrinsic to the values of your organisation, and guide the decisions you're making every day; rather than an afterthought or a box to tick.
Environmental, Social and Governance
So, what could this look like? Firstly, let's break ESG down into its core components: environmental, social and governance.
Setting your ESG strategy will require exploring your business' value chain to find where opportunities for change lie across all three of these domains. Some questions to consider:
Environmental:
How does your company perform as a steward of the physical environment. What impacts do your policies and practices have on the environment (i.e. utilisation of natural resources, effect of operations)?
Social:
How can your company manage its relationships with its workforce, the societies in which it operates, and the political environment? (i.e. dealing with social trends, labor, and politics)
Governance:
What framework lies behind your decision-making processes? (i.e. how policies are made, and which stakeholders have what distribution of rights and responsibilities)
(Adapted from S&P Global)
There is no one accepted framework for ESG or sustainability (although this is in the works) which makes it difficult to compare one company to another – this is particularly important from the perspective of consumers seeking to dollar vote, and investors seeking to gain a realistic picture of where you stand as a sustainable business. Furthermore, the impact of your business and industry can be complex: for example, the UNDP identifies major issues for mining across 17 of the Sustainable Development Goals: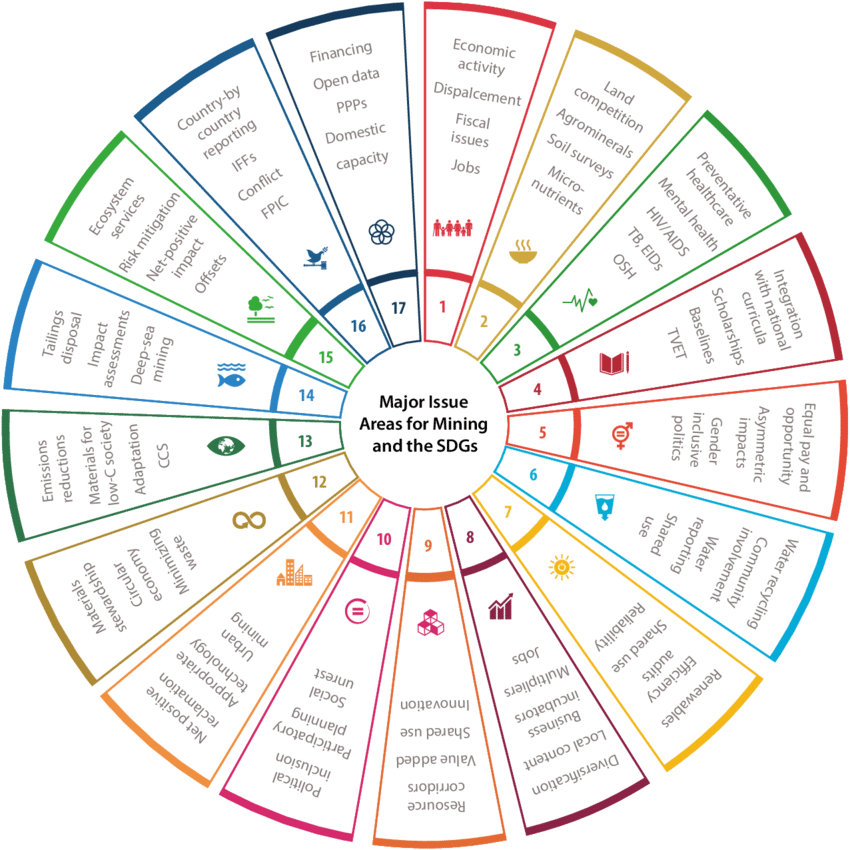 Source: UNDP: Extracting Good Practices
However, there are many excellent consultants and tools out there to make it easier to formulating and implement a robust strategy; for example, the Global Reporting Initiative (GRI) was developed way back in 1997 to create an accountability framework for companies to display to their stakeholders their responsible environmental business practices and is still in common use today with 10,000 GRI reporters in 100 countries, and 80% of the world's 250 largest companies issue Corporate Social Responsibility (CSR) reports in alignment with GRI standards.
By identifying opportunities to break free of siloes and building on what already exists means you can avoid reinventing the wheel; in particular, sector collaboration offers great promise for knowledge-sharing, helping you to contribute to mapping ESG risk in your industry (while reaping the benefit of what's already out there). This is a bit of a mindset shift from how business is usually done – keeping your trade secrets a secret – but especially where complex supply chains are involved, working together is key to ensure that what you do really is effective.
Success Story: Property Council of Australia
The Property Council of Australia recognises that the high risk of modern slavery in the construction industry in Australia needs to be addressed collaboratively.

They're now utilising a bespoke supplier platform for modern slavery reporting, powered by Informed 365, capturing tens of thousands of suppliers and billions of dollars in annual procurement spend. This platform includes pre-qualification supplier questionnaires and a risk assessment matrix, helping businesses understand their risk exposure at an overarching level while also identifying suppliers that do not meet criteria.

As a result, modern slavery reporting entities (large companies with consolidated revenue of at least $100 million) are better equipped to deliver and report upon their obligations under the Modern Slavery Act; and as a trickle-down effect, smaller construction companies supplying to these companies become more aware of their own obligations and are building their capacity to combat modern slavery both in their own right as a Tier 1 supplier, and among their own suppliers.
Of course, it's particularly important that you start this process at the strategic planning stage; these tools, frameworks and consultants have the expertise can help you identify meaningful opportunities to reduce ESG risk and be a business that you, your employees, your investors and your customers are proud of.