Practical Ways To Combat Modern Slavery In The Health Sector
Australia's health sector has grown dramatically over the past decade. With a market size of nearly $172 billion, the industry currently employs 1.8 million people and is projected to increase to over 2 million by 2025. As the sector grows, it also faces increasing scrutiny from investors, governments, customers, and civil society around business respect for human rights. Legislation in Australia has made many health sector boards responsible for mandatory annual statements about their organisation's efforts in managing slavery risks. Modern slavery reporting requirements are, at their core, transparency requirements aimed at increasing corporate responsiveness to modern slavery. However, when health sector entities fail to engage with and report on human rights meaningfully, they expose people to harm and themselves to organisational risk. This article explores the slavery risks particular to the health sector along with practical strategies to combat them.
Key risk areas for the health services sector
The Covid19 pandemic has brought into focus the existing modern slavery risks for the health sector. The top three areas in the industry where risks tend to arise are:
Procurement of medical goods
The production of medical goods and electronics is linked to human rights violations. Labour practices in offshore manufacturing facilities and sourcing of their raw materials increase slavery risk in procuring items like surgical and examination gloves, surgical instruments, linens and gowns. For example, the glove manufacturing industry is known to expose workers to hazardous working conditions like remote factory locations, overlong shifts and debt bondage through high recruitment fees. Similarly, the manufacturing, wholesaling and distribution of pharmaceuticals also present high slavery risks.

Operating activities
The health services sector faces modern slavery risks associated with operational activities like:
Building and facility services

Asset and tenant management

Hospitality and food services

Procurement of non-medical related goods.
For example, food and catering services for hospitals may engage vulnerable populations such as migrant and base-skill workers. In addition, the nature of the work involved with food preparation, packaging and distribution requires repetitive, manual labour, increasing the risk of exploitation.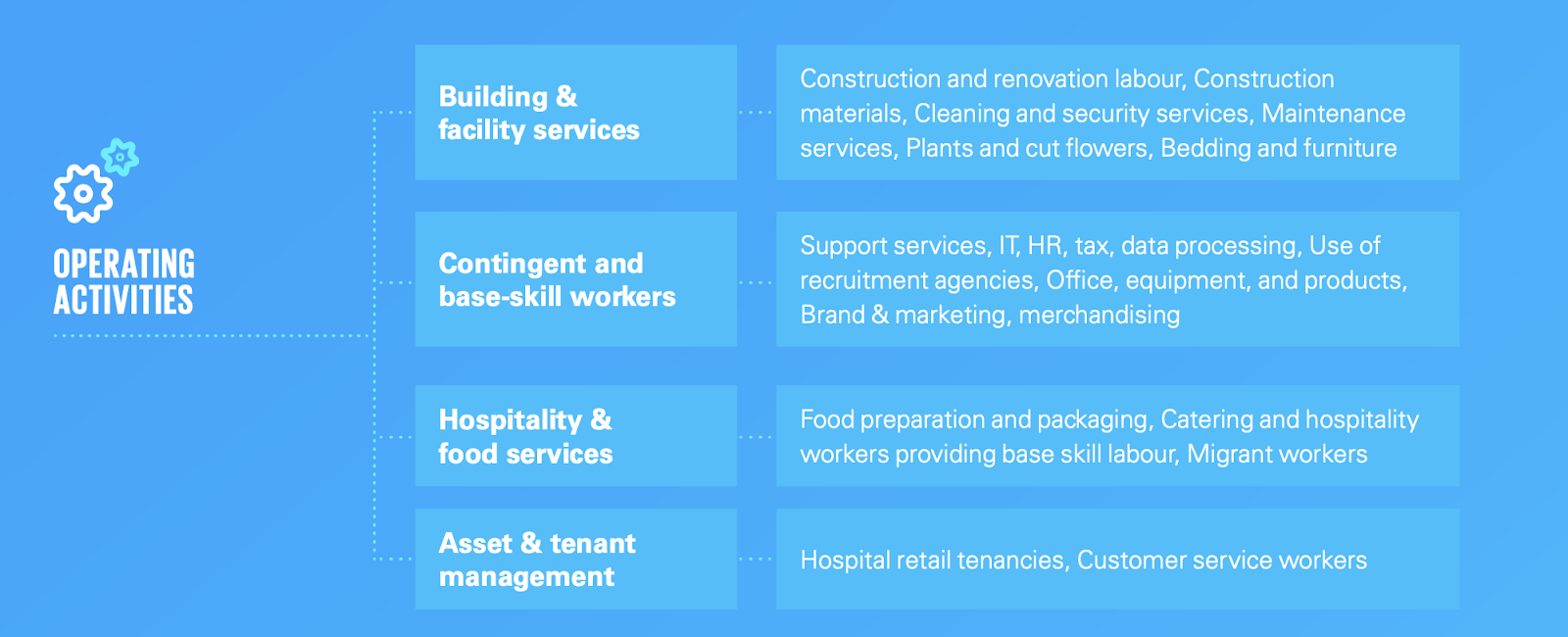 Frontline care
Healthcare workers within the industry can also experience human rights violations. The right to decent work is a fundamental human right that significantly affects the enjoyment of other human rights, including the right to health, adequate food, clothing and housing, and culture. The use of third-party recruitment and talent acquisition agencies limits visibility over working conditions and employment practices faced by the health services workforce. As a result, the employment relationship can often be a site of exploitation that increases the risk of human rights violations. For instance, a 2021 study found that many migrant nurses reported language barriers and a lack of trust and mutual respect.

Challenges to modern slavery risk management in healthcare
Health services organisations face unique challenges in their human rights efforts due to intersecting structural and contextual risk factors, such as:
The interconnectedness of public and private entities in ownership and management structures

Lack of adequate resources because of increasing pressure due to daily operational workloads

Shorter production windows and increased global demand for the same goods and supplies
We suggest some practical strategies to overcome these challenges below.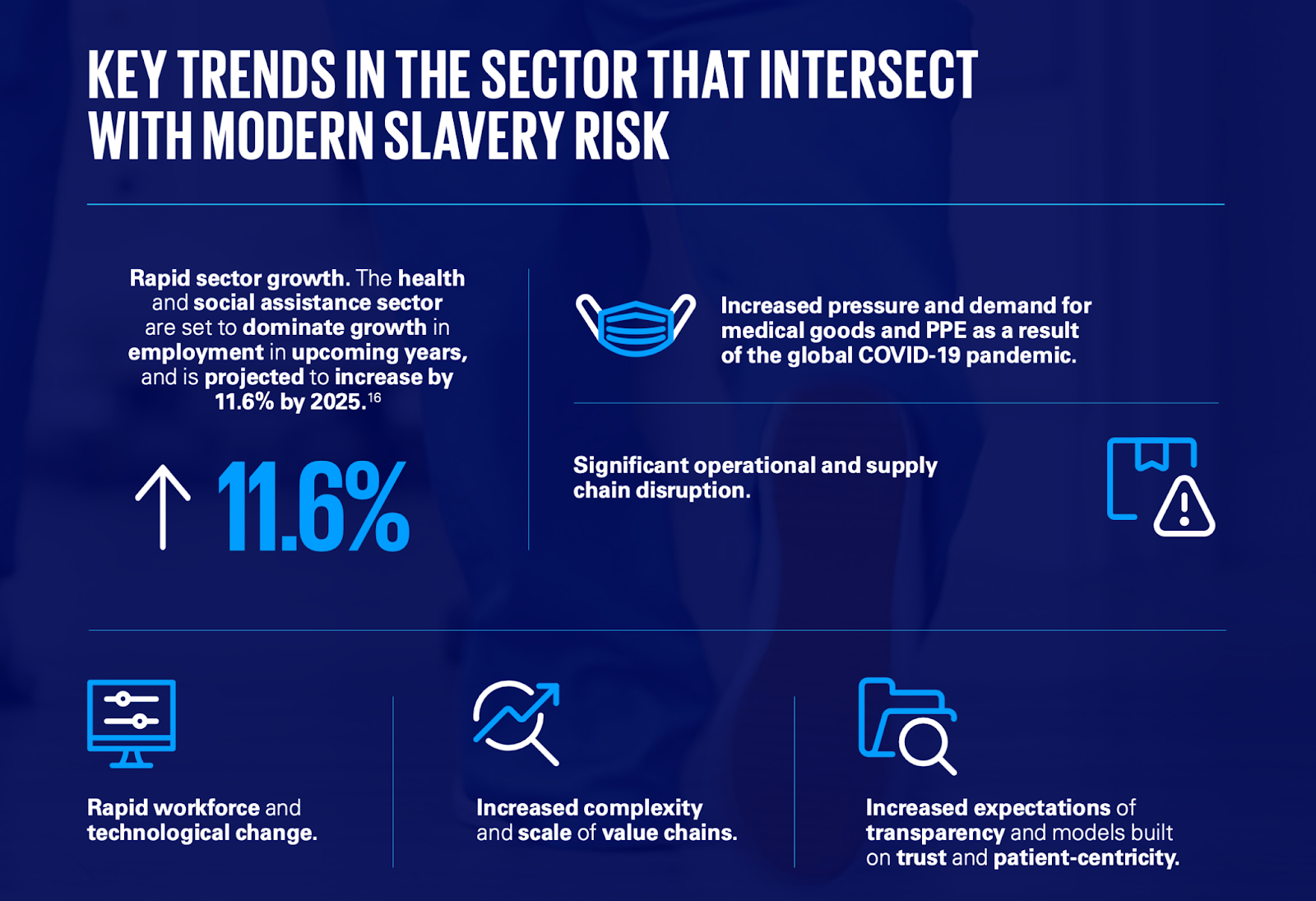 Strategy 1 – Identify management accountability for key risk areas
A key initial focus of an effective response to modern slavery is understanding who can most effectively coordinate policy and risk management. To increase knowledge of relevant suppliers and geographies your entity engages with and sources from, you can:
Map your operations, supply chain and governance structures

Determine the relevant reporting entities

Establish a collaborative approach to joint statements for corporate groups
Identifying the modern slavery risks in your entity across procurement of goods, operating activities and frontline care should be an ongoing process.
Strategy 2 – Prioritise on the severity of impact
Considerations of an entity's level of influence, alongside the severity and irremediability of potential impacts, should help guide your mitigation and response. You can focus on the modern slavery risk hotspots for your organisation, such as:
The medical goods and surgical instruments supply chain in high-risk geographies

Vulnerable populations providing labour in manufacturing or operations

Business models with low visibility of labour practices in the supply chain.
An effective response strategy in health care prioritises based on the impact of human rights violations.
Strategy 3 – Take a human rights approach in decision making
Human rights provide a practical framework to support decision-making and reduce the chance of complaints and litigation in the long term. This approach also provides the opportunity for more meaningful engagement and the involvement and consideration of a broader range of marginalised groups. When taking a 'risk to people' approach, you will need to ask: how might people be harmed as a result of this activity, decision or purchase? For instance, a typical metric used to narrow organisational risk assessment of vendors in your supply chain may be the highest spend; however, the areas of considerable risk to people may sit with your low cost, strategic suppliers. In such a scenario, human rights-focused decision making chooses the more expensive suppliers and accepts some organisational risk to mitigate the risk to people.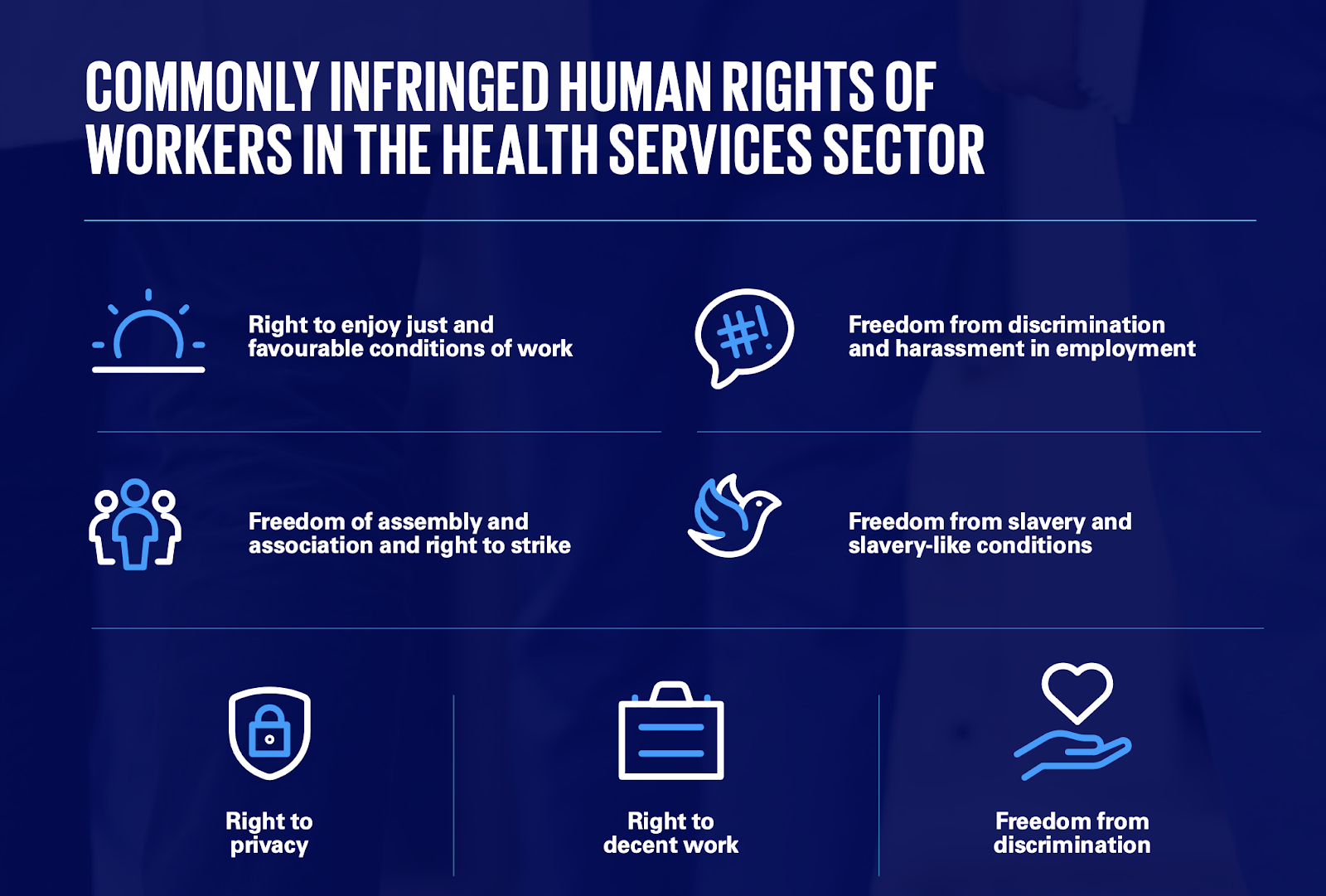 Strategy 4 – Develop effective remediation processes
Remediating human rights harms includes both— compensating the affected individuals and leveraging your influence to prevent the damage from reoccurring. Effective remediation processes for the health sector could consist of:
Responding to the identification of instances of modern slavery in a manner that does not jeopardise the safety of victims

Working with expert advisors, such as local NGOs, to ensure positive, long-term impacts from the compensation process.

Having a trusted, accessible and confidential grievance mechanism to elevate and address worker concerns

Enforcing reporting requirements and regular audits of suppliers to act as an early warning system for modern slavery risks
Conclusion
The Modern Slavery Act 2018 presents an opportunity for the health services sector to embrace a human rights-based approach in its operations. Most health care organisations have existing risk systems and controls around which they can build or retrofit human rights considerations. Combating modern slavery risks in health care requires an understanding of the maturity of your existing systems and controls with an articulated pathway to enhancing them over time.
Image Source: KPMG – https://home.kpmg/au/en/home/insights/2021/11/health-services-modern-slavery-practical-guide.html